Filing taxes has evolved, from being a tedious task that had to be done by hand to being a digital process connected to the cloud. Nowadays, we use an application for filing our taxes. The problem is that you don't know which application to choose or you have problems with the ones you have used previously. Expert Tax is your solution.
Get to know what makes Expert Tax stand out among other applications and why it is the best platform for tax preparation in Puerto Rico.
The Best Program for your Taxes
Expert Tax has dedicated itself to providing quality service and products for the last 28 years and, as part of our commitment to maintaining quality on a high level, our platform, in addition to being fully in the cloud, will be offering additional benefits.
What are they?
New tools for technical support and an increase in personnel dedicated to providing you with exceptional service.

Access and the ability to work on tax forms from previous years (before 2018).

The tool, previously known as Teams, will be included and available free of charge for all users of the platform.

Its functions include creating and filing private forms and creating and assigning groups to select forms.

For more information, visit our article Due Dates and Private Forms: Optimize your Experience in Expert Tax.

We are the only ones in the industry that comply with the SOC 2 Type 2 audit. To know more about the audit, read our blog Data security: CEGsoft Succesfully Completes SOC 2 Type 2 Audit.

Upgraded technologies for a fast and improved platform.

The availability of the OCR, which allows you to automatically transfer information from your client.

To know what the OCR is and how it works, visit The Value of OCR in Expert Tax.

And much more...
If you are interested in learning more about the benefits of Expert Tax Cloud, visit the article The Benefits of Using Expert Tax Cloud.
The New Model Prices for Upcoming Changes and Add ons
We are in a period of transition, therefore, in addition to the benefits mentioned, we want to share with you the upcoming changes that are fast approaching, as part of our commitment to invest and improve our products. Changes will be effective on August 1, 2023:
The prices of Expert Tax licenses

will remain the same

.

$375.00 annually for the Payroll and Withholding module

$300.00 annually for the Individual module
$500.00 annually for the Corporation module

Electronic tax filing will have a fee of:

$4.99 per Payroll and Withholding form
$9.99 per Individual form

$29.99 per Corporation form

Each module will include 10 free tax filings per account.

The available modules are Payroll and Withholding, Individual, and Corporation.

New unlimited packages for electronic tax filings for all users of your account for the taxable year.

The package will be charged separately from the licenses.

Each package is unlimited by account and not by the user.

The prices are:

$1,000.00 per unlimited tax filing package under the Payroll and Withholding module

$2,500.00 per unlimited tax filing package under the Individual module
$3,000.00 per unlimited tax filing package under the Corporation module

The unlimited package options can be applied to payment plans.

These h

ave a monthly fee of:

$208.00 monthly per the individual module

$250.00 monthly per the Corporation module

The platform will include the Entity Conduct form under the Corporation module. The Industrial Incentives forms will be available in the Industrial Incentives Add-On for an additional fee of $250.00.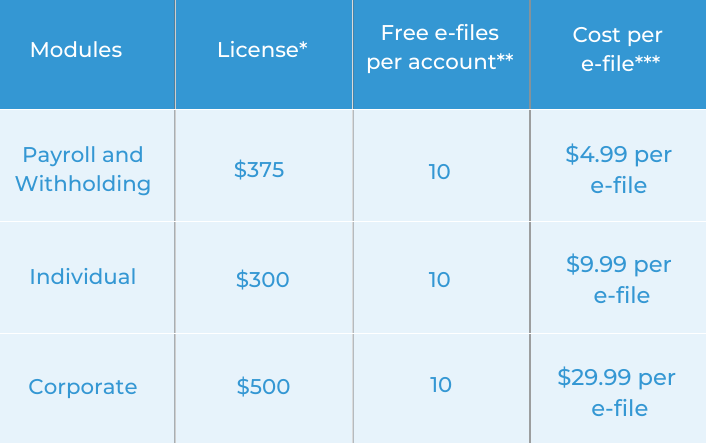 These changes do not apply to licenses from previous years.
Payment options
If you opt for the payment alternative, Pay-Per-File, you will have a variety of payment options for your convenience. These are:
Paying instantly with the available payment methods.

Sharing a link with your client where they will be able to carry out the payment on their own.

Paying automatically at the end of the month accumulated filings.
We are committed to continuing our mission of providing products and functions that simplify processes. With high-quality service and the best advances in technology for tax preparation, Expert Tax is the right choice for your accounting firm. Start today and try Expert Tax for free.